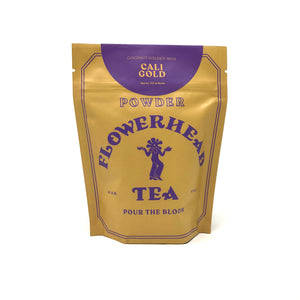 Add a little CaliGold into your nightly routine and start benefiting from turmeric! Use this instant golden drink to calm your mind and nourish your body. Turmeric is the biggest natural fighter of chronic disease. Its an anti-inflammatory that prevents and fights cancer, diabetes, stroke, heart disease, alzheimers, and obesity just to name a few. The combination of black pepper and natural fat aid the turmeric to absorb into your body by 2000%. Get it in your body and get golden.
Net wt 3 oz loose
Ingredients: 100% organic : Diaspora Co Turmeric, Dried Coconut Milk, Black Pepper, Ginger, Cinnamon, Fennel, Vanilla Bean Powder, Sea Salt
Caffeine Free
Preparation: Whisk, Blend, or Shake (in jar with lid) 1 to 2 teaspoons of CaliGold with 8 to 10oz of hot water or milk of your choice (milk is better) until well incorporated. Optional- Feel free to add 1tsp of sweetener of your choice or 1tsp of melted ghee or coconut oil for extra richness that helps your body absorb the benefits faster.