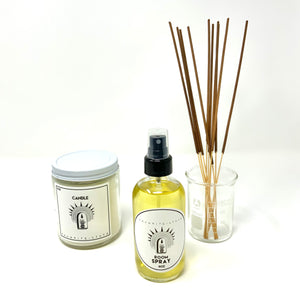 Scent your space however you'd like, this set gives you options. All three products are formulated with therapeutic grade essential oils. No synthetic or fragrance oils included. 
Included in the set:
- one 8oz beeswax / coconut wax blend candle in a lemon and lavender
- fifteen incense sticks scented with blue chamomile, amber, lavender, and cedar wood (amber bottle in photo not included)
- one 4oz spray bottle of room and linen spray with notes of rosemary, mint, and citrus
Recommended Rituals: Burn incense in your living space to create a relaxing, cozy vibe. Light a candle in your bedroom to set the mood. Use the room spray to freshen up your bathroom for guests.