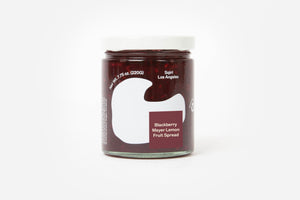 Tangy, fragrant, rich berry. 
Origins:
We get our plump blackberries from Pudwill Farms, the only farmer we know who harvests large amounts of berries and who's always at the Santa Monica Farmers Market, rain or shine! 
Our Meyer lemons comes from Rancho del Sol, the first farmers we ever used at Sqirl! We started in March of 2011, and these citrus farmers are in Jamul, Ca—close to San Diego and Mexico, and they had llamas on their holistic property and, since they weren't at the Farmers Market, Jessica would drive there to get our citrus. Now they send their produce to the Santa Monica Farmers Market just for us to pick up! Rancho del Sol grows the widest amount of citrus varieties alongside of Mud Creek. 
We love the marriage of these juicy blackberries with the floral and more fragrant Meyer lemon. This jam is easy to love. 
Ingredients:
*Wild blackberries, *cane sugar, *Meyer lemon juice & zest
*certified organic