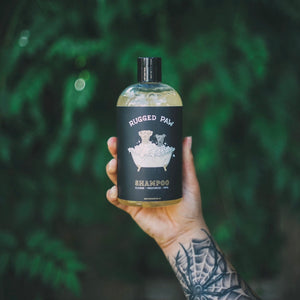 WHAT IS IT?
All natural shampoo comprised of plant derived & vegan ingredients. Aside from the obvious cleansing factor, this wash is also great for moisturizing dry skin and nourishing irritated areas. It will also aid in healing/soothing rashes, hot spots, scrapes, itchiness, and dander.
HOW CAN I USE IT?
For basic washing use: wet, lather, and rinse.
For a more therapeutic use: wet, lather, allow to sit on the body for 5-10 minutes, and then rinse.
WHAT ARE THE INGREDIENTS?
Aloe Leaf Juice, CocoBetatine, CocoGlucoside,
PEG-7 Glyceryl Cocoate, Decyl Glucoside,ξ
Coconut Oil, Safflower Oil, Calendula Extract, Neem Extract, LemongrassξOil, Frankincense Oil, Lavender Oil,ξ Glycerin, Xanthin Gum, Phenoxyethanol (and) Caprylyl Glycol